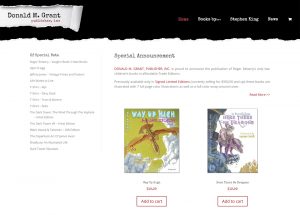 Donald Grant has been publishing books for over 45 years, including fine limited editions for authors like Stephen King. They had an early presence on the internet, but their website was still limited by the original development from the early 2000s.
In addition to the original design created with Divi from Elegant Themes, we migrated a catalog of hundreds of products to Woocommerce complete with decades long order history and customer information. It was a monstrous task re-building the site from scratch, that included a full range of challenges:
Compiling and cleaning information from the original database
Sourcing missing product images and information
Importing a catalog of hundreds of titles
Building logic for complicated shipping rules
Deeply customizing WordPress and Woocommerce
From the day of launch, we've seen the site convert sales on deep catalog as well as featured items because of the vast improvements in usability. And on the backend, we've given the client day-to-day tools to streamline order management. Automation puts sales and inventory reporting at the client's fingertips.
Keeping up to date with technology can be a challenge, especially for a small business with a high profile, but it is absolutely essential to success today. As a boutique web service with years of experience customizing WordPress and Wooocommerce, we can free you up to focus on your core business.