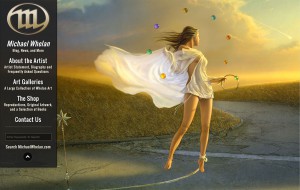 Among the myriad of accolades lavished on Michael Whelan was a Super Hugo declaring him the best artist in Science Fiction over the second half of the 20th century. He was the first living artist to be inducted into the Science Fiction Hall of Fame.
More recently, Whelan has enjoyed a career as a gallery artist. His works of imaginative realism have been displayed in galleries all over the world.
Interestingly enough, Whelan launched his fine art career at Tree's Place in Orleans, MA with the help of his original website (also designed by our very own Mike Jackson). Julian Baird, the gallery owner at the time, was so impressed with the online portfolio that he booked Whelan for a one-man show in the summer of 1997. Most of the art sold out before the show's official opening.
On the current website, newly relaunched in 2012, viewers will find an interesting mix of imagery, from iconic book cover illustrations to breathtaking works of imagination Whelan paints solely for himself. The site features stunning full screen backgrounds, a gallery archive of over 500 paintings, a shop to order a hundred different products, including books, prints, and original art.