In September, we launched a stunning re-design of science fiction and fantasy author C.S. Friedman's website.
The client was thrilled with the finished product. In fact, she raved about the smooth and thorough communication process that led to a revitalized presence on the web.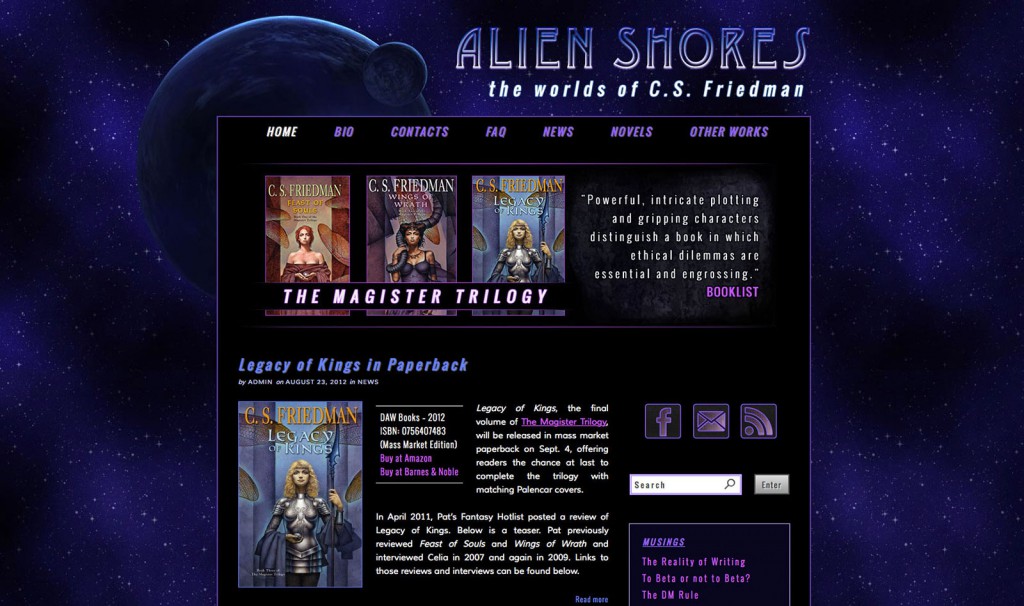 There's an interesting story behind this project. In July, Celia posted on her Facebook page that she was looking for a web designer. I'd read and enjoyed her books, so my interest was piqued from the start.
In early discussions pitching the project, I sent her a list of my credentials which included my early and recent work on MichaelWhelan.com.
Michael, of course, illustrated some amazing covers for Celia's books. Coincidentally, I was about to head out to Connecticut to meet with Michael and his wife Audrey to work on their new site. Strange synchronicity, right?
Celia's original website was produced around the same time I started designing for MichaelWhelan.com. I was flattered that she still thought fondly of my work from over a decade ago.
I remember the original MW website. I admired it greatly and often thought that was just the aesthetic I wanted for my own.
Not a lot had changed on her website over the years, and Celia struggled with getting her fan developed site revamped. Volunteers were often eager, but when it came to the drive to finish, the results just weren't there.
It wasn't for a lack of direction. From the start, Celia presented a strong vision of what she wanted. Clean design with a black central strip against a starry midnight blue sky. Jewel tones on black. A banner with her name and web site title. Clean, dramatic fonts.
Inspiration came quickly. I hit the mark with my initial concept, and I'm sure it had something to do with familiarity with Celia's work. After a week of refinement, the concept was close to the end design.
The details, of course, ground out over the course of a couple months. There was a trip to Connecticut wedged in there. The final months of my wife's pregnancy. The birth of our second child.
With all that going on, I was anxious to launch CSFriedman.com. As it turned out, the new design was worth the wait, a well-deserved upgrade for an established author. And the process left the client and her publishing team singing our praises.