Mike Jackson has been designing websites since 1995 and developing in WordPress since 2008. Part time code monkey, he tackles everything from the basics (HTML and CSS) to more advanced customization in Javascript and PHP.
As our resident PhotoShop savant, he translates the client's vision conceptually to bring gorgeously imagined sites to life on the web. He has a keen sense of organization and a knack for clean, crisp design.
Mike received his Bachelor of Arts in Writing from the University of Illinois at Chicago, recognized with honors from the College of Liberal Arts & Sciences and highest distinction from the English Department.
His work experience also includes a decade as a General Manager with Borders Books & Music in LA and the SF Bay area where he learned the fine art of listening and a dedication to customer service. His store in Santa Cruz was recognized as the best in country from 2005-2006.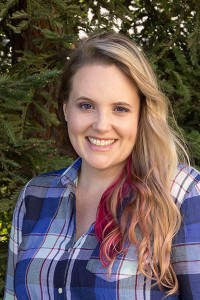 April Dawn Kester is a rarity in her field, a woman working towards her Masters in Information Management and Systems at the University of California Berkeley. She completed her Bachelor of Science in Technology and Information Management and Bachelor of Arts in Business Management Economics at the University of California Santa Cruz.
Her work experience includes 8 years in the banking industry where she worked as a Quality Control Lead and Project Manager. Most recently she managed the lab at the Faculty Instructional Technology Center (FITC) at UC Santa Cruz.
April combines a background in programming, web application software, and user interfaces with a practice of business consulting to help clients incorporate technology to make smarter decisions.
While April has a mind for business, she's also an artist who expresses herself through a variety disciplines: drawing, painting and photography.